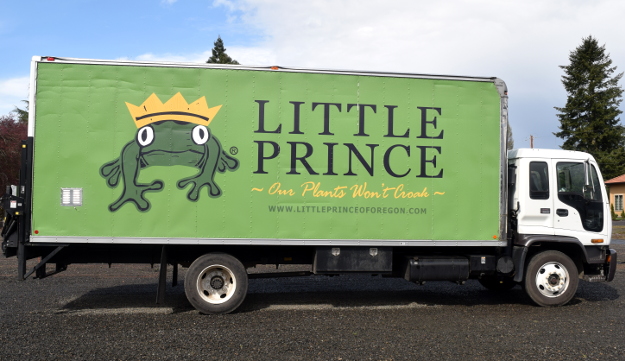 "Our plants won't croak!"
If you live in the Pacific Northwest, you've probably seen Little Prince of Oregon plants with their trademarked frog tags at Fred Meyer and at your local garden center.
I recently got the chance to go behind the scenes at this closed-to-the-public wholesale nursery in Aurora (30 minutes south of Portland) along with some of my garden blogger friends. Want to take a peek?
---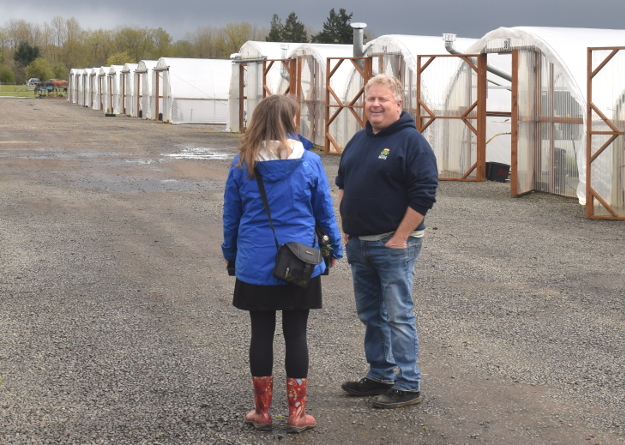 Our host was Mark Leichty, a passionate plantsman who is always on the lookout for something new to add to the catalog. He's a wonderful ambassador for the company—very friendly and generous with his time and knowledge. Everybody likes Mark.
Here he is telling my friend Tamara from Chickadee Gardens to stay out of the houses they have recently sprayed with DDT.
Just kidding. Little Prince uses the least toxic pesticides they possibly can, and they use NO bee-killing neonicotinoids.
---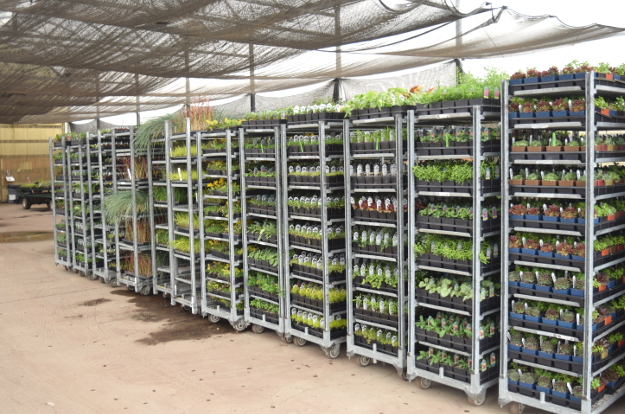 I poked my head into the shipping area.
Besides shipping to Washington, Oregon, and California garden centers, Little Prince also ships liners across the country for other nurseries to grow on. If you garden on the East Coast, you may also encounter some plants that originate here.
---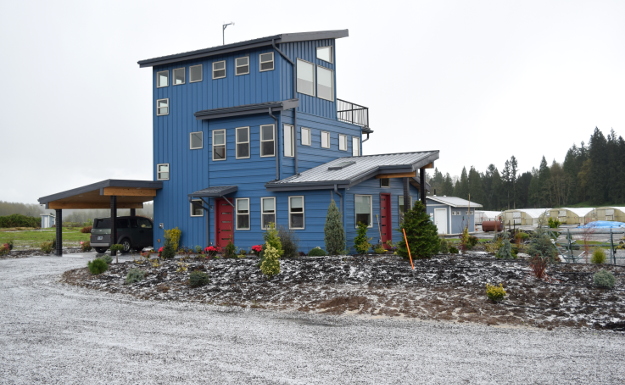 The new Little Prince of Oregon office is fabulous. The Prince himself can survey his kingdom quite splendidly from here. Mark explained the origin of the company's name—apparently The Little Prince was a favorite book of the company's president, Ketch de Kanter, when he was a little boy. His dad started calling him the "Little Prince," and the name stuck.
No, I haven't been sitting on this post since winter. That's hail. I was fully prepared for the rain in Oregon, but nobody told me how often it hails here. It hails a lot! (Compared to the Midwest, anyway.)
---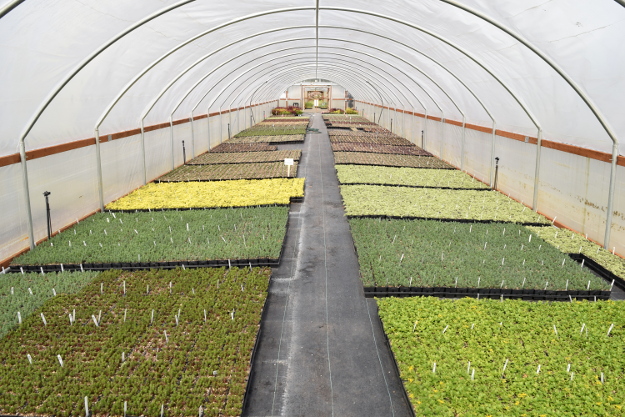 With Mark's delicious salad, homemade chicken noodle soup, and fresh-baked bread in my belly, I set out to explore the 70 or so hoop houses on the property.
These houses are immaculate. They really run a tight ship. Happy, happy plants and no weeds.
They don't use an automated watering system here, believing instead that the human touch is more effective. That's right—they water everything by hand!
---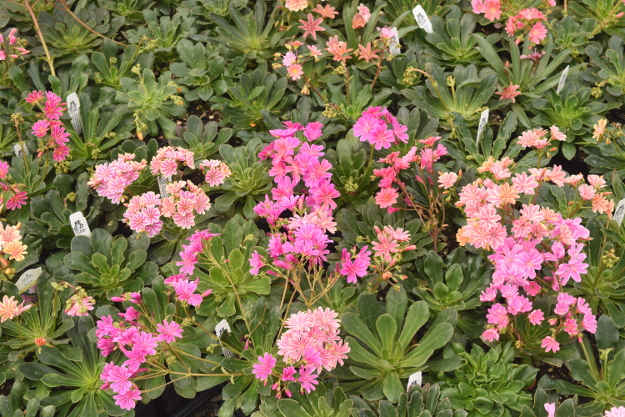 Most appealing to me was Little Prince's "Fit for a King" line. These are extra-special plants that make plant geeks squeal. Lewisia cotyledon Rainbow was looking mighty fine. These rock garden beauties need sharp drainage and perform much better in the West (where they are native) than in the eastern states.
---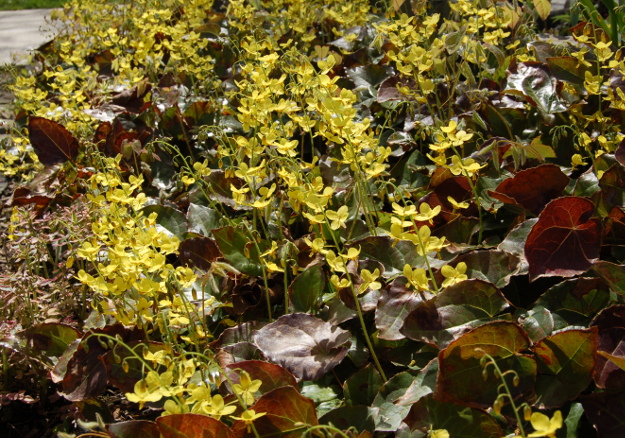 Little Prince of Oregon has a nice selection of epimediums in their FFAK line. I got a few different varieties a couple years ago the first time I got to visit Little Prince. One was Epimedium ×perralchicum 'Frohnleiten'. Here's what it looks like when it's established.
---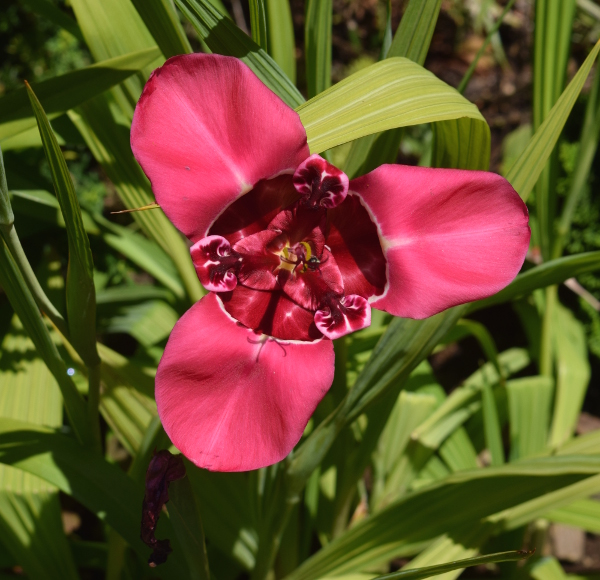 I bought Tigridia pavonia on this trip, a summer-blooming Mexican bulb that's hardy to zone 8. Little Prince has mixed colors in their FFAK line.
---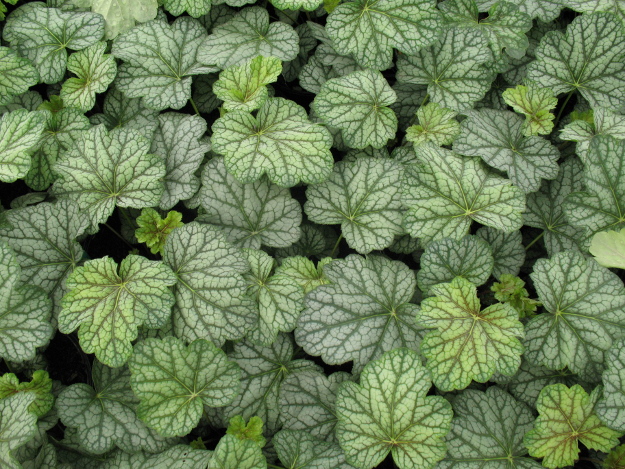 There are several heucheras in the Fit for a King collection, but you know my favorite heuchera of all? The modest little 'Green Spice'. I think the subtle marbling is beautiful, and it's such a tough and reliable plant.
---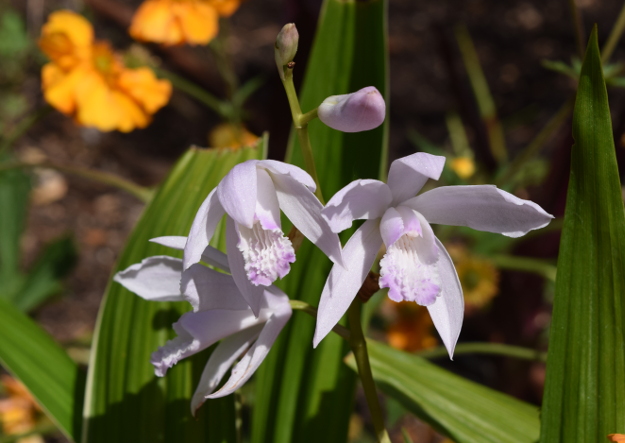 Little Prince is growing ground orchids now, Bletilla striata, in their FFAK line. If I had some more shade and moisture in the summer, I would definitely give these a try. They're supposed to be pretty easy to grow. They bloom in late spring.
---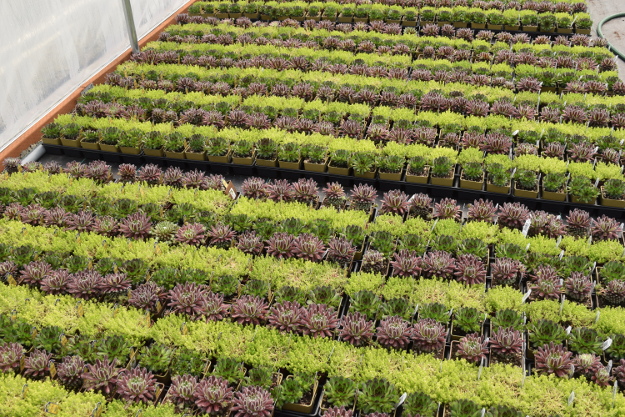 I also combed through Little Prince's "Water Misers" line. They have a fantastic collection of sedums and are adding more and more cool sempervivums to the mix all the time. These succulents are in special biodegradable pots made out of rice hulls.
---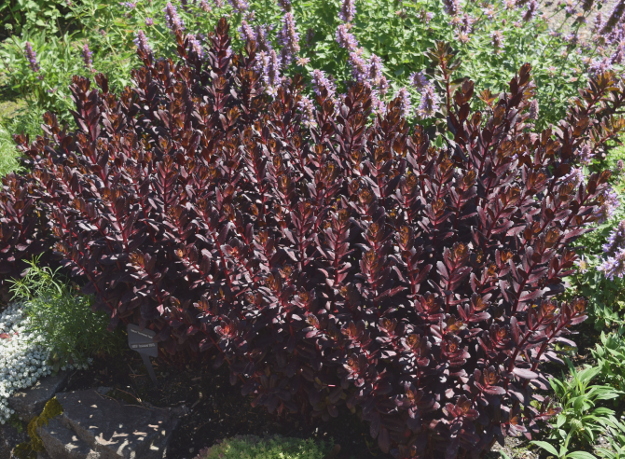 Little Prince is growing some of Terra-Nova's colorful sedums. This is Touchdown Teak, which holds that deep mahogany-brown color all season.
---

I was glad to see new crops of butterfly weed (Asclepias tuberosa) coming on. I love this plant for both the East and the West. The Perennial Plant Association agrees and named it the Perennial Plant of the Year for 2017.
---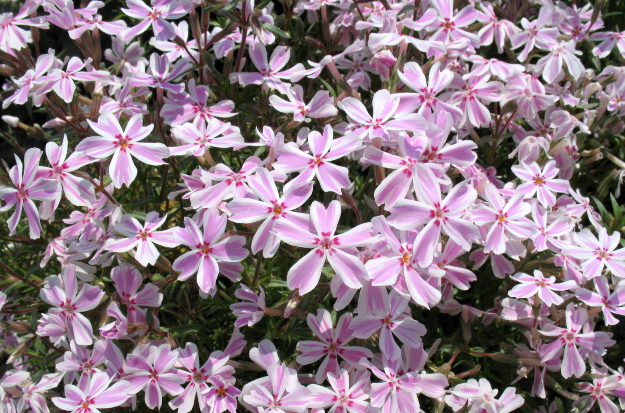 This plant makes me smile, too, even though some may think it's too common. Moss phlox (Phlox subulata). This one with the stripey flowers is called 'Candy Stripe'.
---
If you're in the area on Thursday, June 15, 2017, and you're a member of HPSO (The Hardy Plant Society of Oregon) or are thinking of becoming a member, you'll have a chance to visit Little Prince yourself. HPSO and Little Prince are having an "After Hours" event for members to socialize and to get their own private tour. Details to come at hardyplantsociety.org. See you there!